With Saturday's loss to UCLA, Washington dropped to 2-4, their worst start through six games since 2008's winless season three head coaches ago. They lead only Cal in the Pac-12 North, a team UW needed overtime to beat. Their best player has arguably been punter Race Porter as Cade Otton and Trent McDuffie have dealt with injuries. I love Race, but it's never a good sign when your punter is in the conversation as your best player. The offense looks like it was dragged kicking and screaming out of 1987, the defense lacks its trademark energy, the coaching staff refuses to make adjustments. How did this happen, man?
THE OFFENSE
Let's start with offensive coordinator John Donovan, the target of a large majority of fans' vitriol this season. Let's do a quick breakdown of Donovan's career, starting in 2005 when he was promoted to RB coach at Maryland:
Maryland's offense averages 3.4 rushing yards per attempt. Their leading rusher finishes 56th in the country in rushing yards.
in 2006, Donovan is moved to QB coach. QB Sam Hollenbach's yards per attempt falls by nearly a yard, but he plays about as well as he did the year before.
2007: Hollenbach graduates, making way for Chris Turner, who throws 7 TDs and 7 INTs.
2008: Donovan moves back to RB coach. To his credit, sophomore RB Da'Rel Scott runs for 1,133 yards and Turner's numbers get worse.
2009: The running game implodes, averaging a miserable 3.1 yards per attempt.
2010: Things recover (4.1 yards an attempt), Maryland goes 9-4, and the entire staff gets cleaned out. Donovan follows James Franklin to Vanderbilt.
2011-13: Donovan's calling card as a coach. Vanderbilt puts together a competent offense for the first time since World War II with him coordinating. Zac Stacy is the first Commodore with back-to-back 1,000 yard seasons. Vandy sets school records for yardage and points per game.
2014: Donovan follows Franklin to Penn State. The offense performs significantly worse than in 2013 in just about every available metric. QB Christian Hackenberg, coming off a 20/10 TD/INT season in 2013, throws for 12 TDs and 15 INTs.
2015: The offense rebounds a bit, in part thanks to the arrival of Saquon Barkley. Donovan's playcalling gets on the nerves of Penn State fans and he gets fired in November.
2016: Donovan is hired by the Jaguars as an offensive quality control coach and quickly named an offensive assistant. The Jaguars' offensive DVOA falls by 6 percentage points, while Penn State wins the Big 10 championship.
2017: Jacksonville ranks 16th in offensive DVOA, an 11 place improvement. Offensive coordinator Nathaniel Hackett names Donovan as the architect of an absurdly efficient red-zone offense.
2018: Donovan is rewarded with a job as the assistant running backs coach and the Jaguars immediately plummet from 9th in yards per attempt in 2017 to 26th.
2019: Yards per attempt inch back up to 15th in the league, but we begin wondering if Leonard Fournette is ever going to be the player many thought he'd be. Fournette gets cut after the season.
By my count, that's 5 pretty bad seasons, 5 mediocre ones, and 5 decent to good ones, which makes for a baffling resume. I would, however, like to point out that only one of those decent to good seasons came after 2013. Donovan makes for an easy scapegoat: fans barely knew who he was when he got hired, after all. But even if you're willing to hear him out, questions abound.
Donovan has coached thousand yard rushers time and time again, even if the yards per attempt data makes it look shaky. Yet UW's leading rusher is on pace for 452 yards this season. By the way, said leading rusher is sixth-year senior Sean McGrew, who wasn't part of the gameplan in any capacity in the Huskies' first two games. Four running backs have gotten at least 25 carries through 6 games, which inherently will limit the ceiling of a leading rusher. I get that. But 452?
It was as recently as 2017 that Donovan engineered the best red-zone offense in the NFL. Yet UW's playcalling in that area has been miserable. Take the first quarter drive against UCLA. Dylan Morris hits Rome Odunze for 17 yards and nearly a TD, but Odunze steps out of bounds at the 2 yard line. Perhaps a good time to bring in Richard Newton or Cam Davis, both of whom bring a bit more power than McGrew or Pleasant. Or, McGrew could take it up the middle and lose 3 yards on first down. And then lose another yard on second down. And then Morris could force a throw to Otton in the end zone on third and goal and just barely avoid getting picked.
Speaking of Morris, let's talk about the quarterback situation. It's not like the redshirt sophomore is a complete bum; he was a 4 star recruit, top recruit in Washington, and #4 pro-style QB in the country. It's easy to forget all this when there's a newer, shinier recruit sitting behind him, of course, but it's not like he turned into a pumpkin overnight. It's arguably difficult to accurately assess Morris' play in a vacuum because he's only ever played in the Donovan system, but some things can't be blamed on anyone but him. He's making bad decisions (see: forcing to Otton on third and goal), holding deep balls too long, throwing ugly interceptions. On his second interception of the game, Jalen McMillan looked to have a step, but Morris releases the ball a beat or two late. It results in an underthrow, the DB catches up, tips the ball, makes the pick. Game over.
Unless Jimmy Lake and Donovan are content with collecting unemployment to start the 2022 calendar, it seems inevitable that Sam Huard sees the field. The 5 star legacy recruit reportedly struggled in spring practice, an understandable hiccup given that he should've been finishing high school at the time. But at this point, it's comical that Lake and the staff refuse to give it more than a passing thought. On the surface, it's comparable to other situations around the country: Oregon wants to see Ty Thompson, Michigan clamors for JJ McCarthy, Florida begs for Anthony Richardson, Notre Dame wants Tyler Buchner. The key difference? All those teams have a winning record, giving their coaches a bit more leeway to be stubborn. (Florida increasingly looks to be the exception to this.) And yes, reporting indicates that Huard is not better than Morris at this time. And yes, Huard probably does need more time to get the playbook down (although you could probably make the argument that he shouldn't learn it at all, considering it is rapidly fading in relevance). But Huard is the future of this program. Let him show it.
THE DEFENSE
For a team helmed by their former defensive coordinator, the defense sure does look awful. Everyone knew the departure of Pete Kwiatkowski was going to hurt, but I don't think anyone thought it would lead to complete destruction. The energy previously brought by guys like Budda Baker and Elijah Molden simply has not been there this season. While the pass defense has performed reasonably, the run defense has been atrocious. Linebackers are getting washed away up the middle, linemen can't seem to shed blocks, nobody keeps contain on running quarterbacks like Dorian Thompson-Robinson. It's an upsetting watch given that it's a defense with 6 or 7 future pros getting playing time at all levels of the field.
Honestly, it's hard to fault the defense for much more than the woes in the run game. They've held almost every opponent to 24 points or less; Michigan is the one exception. The Wolverines ran for 343 yards in that game on their way to 4 rushing touchdowns. UCLA chipped in another 237 on Saturday, Oregon State 244 the week before that. But Trent McDuffie has been his usual great self, Kyler Gordon seems to be putting his athletic traits together, and Zion Tupuola-Fetui returned against UCLA. While he didn't help the Huskies record a sack on DTR, he'll presumably help bolster the 1.5 sacks per game average. 3 of the 9 sacks on the year have come from DBs, by the way, which means UW has gotten home with their linemen once a game.
It's a concerning trend that the Huskies have trouble tackling when defensive coordinator Bob Gregory is also the inside linebackers coach. It's perhaps more concerning that the defense as a whole has disappointed to this degree when the head coach is the former defensive coordinator. He's the guy that got promoted because he was so good that we didn't want anyone else to take him from us. The guy molded in Chris Petersen's image, the guy who we thought would carry on the same legacy and culture we knew. The guy that produced ten NFL defensive backs.
Where's that guy?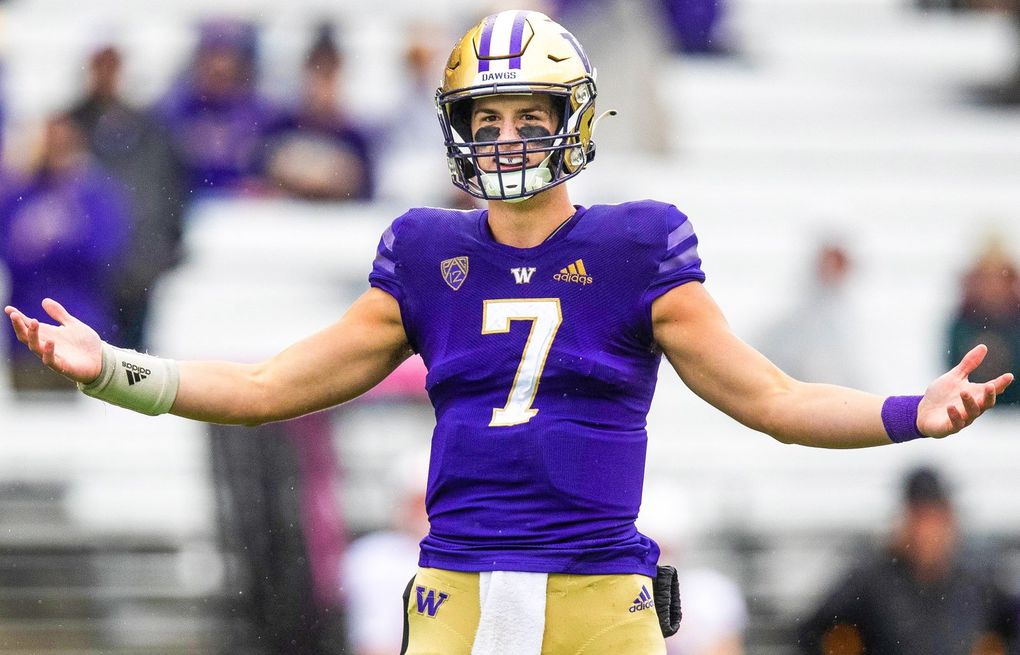 RECRUITING
For all the on-field woes, the off-field might be worse. UW isn't known as a recruiting powerhouse; Petersen's modus operandi always seemed to be taking lower ranked recruits and turning them into stars. But his final class still ranked 16th in the country, as it also did in 2018 and 2019. In 2021, Jimmy Lake's first full class, that ranking fell to 36th. In 2022, it's currently 53rd. There have been swings and misses at big-time in-state talents. JT Tuimoloau, Emeka Egbuka, Junior Alexander, and Julien Simon were all 4 star or better recruits that enrolled elsewhere in 2021. 2022 has already seen in-staters Tobias Merriweather and Dave Iuli pledge to Notre Dame and Oregon, respectively. 5 star tackle Josh Conerly seems to still be a coin flip, while things look murkier for Malik Agbo or Dishawn Misa.
There's been decommitments, and understandably so. There were 4 of them just this summer: Ben Roberts, Sir Mells, Anthony Jones, and Mark Nabou. There's been transfers, nine of them since spring camp. 7 of them have been your run-of-the-mill type: guy who wasn't really going to see the field here, transferred to somewhere they would play. Kicker Tim Horn is the latest to fall into this category. The other two are Ethan Garbers and Puka Nacua. Garbers is a hard one to pin, because he theoretically had a chance to win the job in 2020 and lost out to Morris. That made his path to playing time difficult with the impending arrival of Huard, although if he had stayed a Husky, perhaps fans would clamor for his name so that Huard could continue to develop in peace. As it stands, he's a backup at UCLA now, but presumably is next in line after Thompson-Robinson departs. That's when we'll really know how bad that one hurts. Nacua was a heartbreaker, considering he was either the best or second-best receiver on the team. But injuries prevented him from getting going under Lake and Donovan, and he never really showed the same spark as he did as a freshman. Perhaps that was because the offense didn't suit him, perhaps it was the injury, etc. Nacua headed home for BYU, where he's been moderately productive. McMillan and Rome Odunze have looked good enough as young players that I'm willing to call it a wash, but Nacua certainly would've helped earlier in the year, when UW lost their top three receivers to injury.
From an outside perspective, the recruiting approach simply seems disorganized. One theory is that Lake and company are desperate to compete with Oregon, which naturally puts more focus on top talents. But perhaps UW hasn't established that same brand recognition: no Nike, no recent success besides the honor of serving as cannon fodder to Alabama in the playoff and Ohio State in the Rose Bowl. All that energy means less on the classic UW guys: 3 stars, maybe low 4 stars, not super heavily recruited by Power 5 schools, developmental ceilings high enough to be worth a bet. So maybe those guys go elsewhere because the Huskies don't seem to care about them. They're busy trying to get a date with players barely willing to give them the time of day.
Or, perhaps Lake and company are getting in the door with those big time recruits. Tuimoloau was reportedly down to Ohio State and Washington before choosing to head east, after all. But that means that UW is always the bridesmaid, never the bride; a leveraging tool to get the Ohio States, Oregons, and USCs of the world to put on the full-court press. In some senses, that'd be more embarrassing than not being given the chance. You're the fallback, the safety net, given the illusion that you have a real shot.
WHAT NOW?
It's a mess in Seattle right now. As the weather gets worse in Rain City, what is the incentive to go to Husky Stadium? It's cold, it's wet, every game is at night because of Larry Scott, and you're showing up to watch a subpar product. If I wanted to watch an offense like this, I'd pull up YouTube clips of 2012 Vanderbilt, because at least that would be nostalgic. If I wanted to watch a run defense this bad, I'd watch the Chargers, who at least have an offense capable of keeping me awake.
Lake does every press conference like he's trying to keep opponents from finding out valuable information. Injury updates? Only if they're out for the season. QB changes? Mmm, probably not, but we're keeping an eye on it. Why didn't X player get more touches/snaps? Constantly evaluating. It's cute when you're winning games, but at this point, just give it to me straight. If Otton and McDuffie aren't going to play, as happened against Cal, then tell me, because there's better ways I can spend my Saturday nights.
Something has to give. A sacrificial lamb seems inevitable, whether that's the firing of Donovan, the benching of Morris, or something else. But Lake seems too stubborn to pull these triggers himself, which would mean pressure would have to come from an athletic department that has historically let individual programs handle their business. Maybe it means nobody's head rolls until after the season and Lake gets one more chance. But does he deserve it?
There's NFL talent on this team, more than there is on 80% of the teams in America. I have no doubt that each and every player on the roster is playing their hearts out to try to turn things around. But it's difficult to succeed when you're put in positions to fail, and the reality is that this team has been put in a position to fail at nearly every turn. The offensive system is not only dead on arrival, it's immutable. The defense gets trampled because they're exhausted from being on the field over and over again while the offense fails to produce. There's no subs because recruiting has tanked. Receivers get open but the ball never gets to them.
This is football purgatory. Most teams exist in this space, but it's surreal to actually accept it about your team. There aren't 130 high quality head coaches in college football. There might not even be 30. Once you get one, you get to experience freedom, nirvana, ten win seasons. But once you lose them, you enter a devilish game of musical chairs that has no guaranteed end. Recruiting is bad so you hire a recruiter; they can't manage the team in-game, so you hire a strategist. The strategist can't recruit so you fire them to hire a recruiter. The cycle continues, fed by 30, 40, 50 year old create-a-characters who started their careers at Southwestern Minnesota Baptist and will end them by crushing your dreams of having a culturally relevant alma mater. Life is not kind to those who want. Embrace mediocrity, for there is no end in sight.
Follow Alex @alexkatson.