I have a love-hate relationship with mock drafts. On one hand, the exercise is a ton of fun. Putting your general manager hat on and matching prospects to teams in an effort to improve an organization's chances at hoisting the Lombardi? It's every football nerd's dream. Optimism is in the air and every team improves! On the other hand, there are so many moving parts and variables that it's pretty much impossible to accurately predict who ends up where. It's even more of an impossible task when you write a mock pre-free agency and pre-combine! Most amateur draft analysts aren't close to having final grades on every prospect. Everything is still up in the air!
This year's draft will be affected by what's shaping up to be one hell of a quarterback carousel. How these teams attack the position will define not only the draft, but the entire offseason. I do not include trades in my mock drafts as they're too difficult to predict, but I'd expect some movement this year. I write mocks based on what I think is likely at the time, in an improbable attempt to predict the unpredictable.
So why should you read my mock draft? The process. I try to bring to you an educated guess on who goes where while providing reasoning for each selection. At the very least it's an activity where I learn more about not only players, but how those players fill team needs. Right or wrong, it's process over results. So, without further ado, I bring to you:
1.1 Jacksonville Jaguars
Evan Neal, OT, Alabama
The future of the Jacksonville Jaguars lie squarely on the shoulders of Trevor Lawrence. How about adding a 6'6", 360-pound behemoth who can bench 475 lbs, squat 650 lbs, and charge at you like a rhino? The team needs to do everything it can to help Trevor, and grabbing a blue chip prospect like Evan Neal is a good start to shoring up the supporting cast around the young signal caller.
1.2 Detroit Lions
Aidan Hutchinson, EDGE, Michigan
Love everything about Hutch's fit in Detroit. Local kid and stellar prospect at a position of need? Dan Campbell and the Lions front office can't run to the podium fast enough. Hutch embodies everything that this young team is striving to become.
1.3 Houston Texans
Kyle Hamilton, S, Notre Dame
It's difficult to get a read on exactly what Houston is trying to do. Kyle Hamilton is, in my opinion, the best player in this draft class. The Texans are lacking playmakers across the board, and safety is becoming increasingly more important across the league. Hamilton would be a legit chess piece on the back end of the Houston defense.
1.4 New York Jets
Ikem Ekwonu, OT, North Carolina State
The Jets and Jaguars are in similar positions: New York has to prioritize protecting the future of the franchise in Zach Wilson. Ekwonu is a mauler and a tone setter. He can play inside or outside and has a contagious nasty streak. With the future of Mekhi Becton up in the air, the Jets pounce on an opportunity to add the talented lineman.
1.5 New York Giants
Kayvon Thibodeaux, EDGE, Oregon
Joe Schoen and Brian Daboll come from a Buffalo organization that prioritized adding talent to the trenches. That philosophy doesn't change in New York. The Giants add arguably the most talented edge rusher in the draft in an effort to boost what has been a dismal pass rush group as of late.
1.6 Carolina Panthers
Kenny Pickett, QB, Pitt
One of the worst kept rumors to circulate the mill as of late is Matt Rhule's affection for Kenny Pickett. Would I take him this high? Personally, no. But you're only as good as your quarterback, and the Panthers don't have one. They elect to go with the prospect who many have as the draft's top signal caller.
1.7 New York Giants (via Chicago)
Tyler Linderbaum, IOL, Iowa
Is this a bit high for a center? Arguably. Is Linderbaum deserving of being a top 10 pick? Absolutely. He's one of the most athletic center prospects I've seen and on tape he stacks pancakes like he works at Denny's. He makes up for being slightly undersized with the elite ability to move to the second level in the run game and stellar technique and leverage in pass pro.
1.8 Atlanta Falcons
Ahmad "Sauce" Gardner, CB, Cincinnati
Terry Fontenot has preached the "best player available" philosophy since coming to Atlanta. The staff has been spotted at numerous Cincinnati games this season, and Sauce Gardner has consistently been the best player on that team. Pairing Sauce with AJ Terrell gives the Falcons one hell of a duo on the backend of the defense, and perhaps would allow Dean Pees to dial up more pressure to help the pass rush.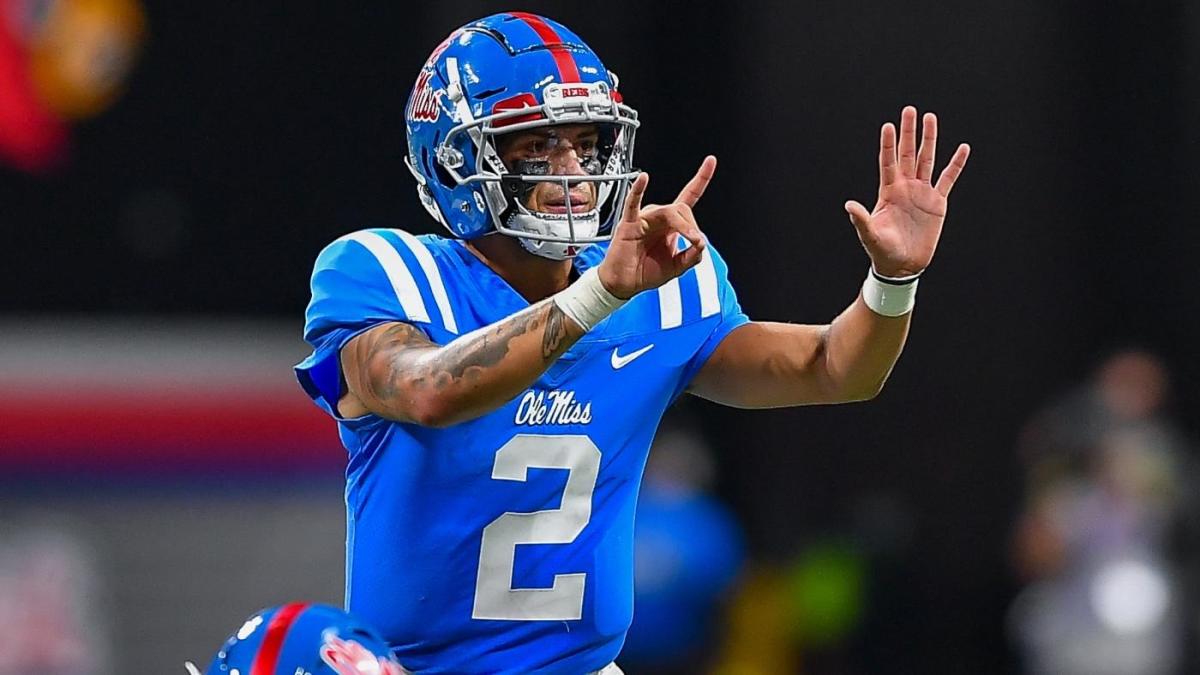 1.9 Denver Broncos
Matt Corral, QB, Mississippi
I fully expect Nathaniel Hackett to be in the veteran QB market. Perhaps reuniting with the 2022 MVP in that #12 jersey? Maybe trading for Jordan Love, another guy Hackett is familiar with? Similar to Carolina, until I see it happen, the Broncos need to draft a QB here. Matt Corral was one of the winners at the Senior Bowl simply by not showing up. The film shows he's got a live arm and plus athleticism. Denver is one of the few teams with a supporting cast strong enough to support a rookie quarterback.
1.10 New York Jets (via Seattle)
Treylon Burks, WR, Arkansas
Adding a receiver with the playmaking ability of Burks along with Ekwonu would be one hell of a start to help out Zach Wilson. The playoffs have shown that having a true alpha playmaker is more important than it's ever been. Burks provides size, strength, and versatility. Adding him next to Elijah Moore and Corey Davis gives Wilson a promising young receiving corps.
1.11 Washington Commanders
Malik Willis, QB, Liberty
Yet another team whose pick will be affected by the veteran quarterback market. Malik Willis has all of the athletic traits you'd want in a young signal caller. He'd electrify the Washington fanbase and his rushing ability would provide a solid floor as he becomes accustomed to the speed of the NFL game. Malik Willis, Antonio Gibson, and Terry McLaurin have all the makings of a big three that Scott Turner and the Washington Commanders could build around.
1.12 Minnesota Vikings
Derek Stingley Jr., CB, LSU
The pre-draft process will be crucial to Derek Stingley's value. Do the medicals check out? Will he interview well in response to the dip in his play? Is he going to blow up the workout at his pro day? He could go higher (or lower) than this depending on those answers. For now, he heads to a Vikings team that could lose Patrick Peterson and Mackensie Alexander. Not to mention that the Breshaud Breeland experiment went… poorly. The Vikings must be thrilled to see this kind of talent fall out of the top ten.
1.13 Cleveland Browns
David Ojabo, EDGE, Michigan
Wide receiver is certainly in play here, but the potential departure of Jadeveon Clowney is a factor in making this pick. Ojabo has one of the highest ceilings in this class. He's extremely athletic and has the incredible ability to bend and turn the corner while rushing the passer. He's a classic high ceiling, low floor player who will need time to refine some technicalities in his game. Pairing Ojabo with Myles Garrett could be absolutely terrifying for opposing quarterbacks.
1.14 Baltimore Ravens
Jermaine Johnson II, EDGE, Florida State
Baltimore's tradition of taking talented defensive lineman continues. Jermaine Johnson was the biggest winner of the Senior Bowl, bar none. He boosted his stock by displaying impressive strength, size, and violent hands. Johnson can slide into either EDGE spot and contribute day one.
1.15 Philadelphia Eagles (via Miami)
Drake London, WR, USC
For the third year in a row, the Eagles find themselves going wide receiver in the first round. London would complement former Heisman winner Devonta Smith very well. Adding his size and skillset to Philly's receiving corps gives Jalen Hurts the best shot at improving as a quarterback. Mel Kiper has been pushing London as a top ten player, so it's possible that in terms of draft range, this is closer to his floor than his ceiling.
1.16 Philadelphia Eagles (via Indianapolis)
Devin Lloyd, LB, Utah
I know the Eagles typically don't draft linebackers this high, but the value at this pick is incredible. Devin Lloyd has all the tools you want in a modern-day linebacker. He'd step in day one and immediately be a leader for Jonathan Gannon's defense. Edge rusher could also be in play here.
1.17 Los Angeles Chargers
Jordan Davis, IDL, Georgia
The Chargers have suffered from poor run defense and the mammoth tackle out of Georgia would help them solve that issue. Davis is the kind of space eater who'd immediately make everyone's job on defense significantly easier. He's a good enough player that if nose tackles were more valued, he'd go higher than this pick.
1.18 New Orleans Saints
Garrett Wilson, WR, Ohio State
As of now it sounds like Michael Thomas is returning to New Orleans, but that doesn't stop the Saints from selecting the skilled receiver out of Ohio State. Garrett Wilson shows impressive body control and route running to go along with strong YAC ability. He'd help tremendously with the New Orleans passing game. As I've stated, I don't include trades in my mocks, but this is a team to keep an eye on in regards to moving around for a quarterback.
1.19 Philadelphia Eagles
Andrew Booth Jr., CB, Clemson
Really wanted the Eagles to attack the trenches here, but Booth is too good of a value to pass up. Booth checks all the boxes you'd want in a corner. He's a smooth, fluid athlete who is also a great tackler. He's a dark horse for CB1 in this class, but in this mock, he slides to a fringe top 20 pick. He'd start next to Darius Slay (who is playing at a high level, but isn't getting any younger) immediately.
1.20 Pittsburgh Steelers
Charles Cross, OT, Mississippi State
Everyone's heard the rumor by now: Mike Tomlin loves the idea of Malik Willis as his future quarterback. I don't see him being able to get his hands on him without trading up. Here they grab the fleet footed offensive lineman Charles Cross and help give their future signal caller (whomever that may be) the protection he'll need to have a shot at succeeding.
1.21 New England Patriots
Travon Walker, EDGE, Georgia
Like many other EDGEs in this class, I've seen Walker's value all over the place. I'm not sure where Belichick would line him up, but I'm confident he'd do well there. He's an incredible athlete who offers inside/outside versatility to go along with impressive quick-twitch athleticism and great speed to power capability. He's a bit raw, but I'd trust the Patriots (well, mostly Bill) to develop him into the best player he can be.
1.22 Las Vegas Raiders
Jameson Williams, WR, Alabama
Dave Ziegler and Josh McDaniels come from a Patriots organization that often added to the trenches early in the draft, but I like the idea of McDaniels immediately buying himself a new toy to play with on offense. Jameson Williams is the best deep threat in this draft and his speed would help Derek Carr win vertically and open things up for Darren Waller. If it wasn't for his ACL injury in the National Championship, Williams would likely go much higher than this.
1.23 Arizona Cardinals
George Karlaftis, EDGE, Purdue
Arizona is in a tricky spot here, but the potential exit of Chandler Jones and/or J.J. Watt leads to them picking the best edge rusher on the board. Karlaftis is an underrated athlete who has surprising explosiveness, as well as great hands and a violent playstyle. He'd be a welcome addition to the Cardinals defense.
1.24 Dallas Cowboys
Nakobe Dean, LB, Georgia
Dallas can't resist the idea of adding former Bulldog Nakobe Dean next to Micah Parsons. This selection helps every level on the Cowboys' defense. Pairing these two at linebacker would give Dallas's corps incredible range and it would allow Parsons to play more defensive end on passing downs. Dan Quinn loves athletic linebackers, and Dean is perhaps the most athletic in this class.
1.25 Buffalo Bills
Kenyon Green, IOL, Texas A&M
The Bills aren't in the best cap situation entering the offseason. Josh Allen's cap hit balloons to nearly $40 million. Players like Mitch Morse or Daryll Williams could be cap casualties, and Cody Ford hasn't been the player many hoped he'd become. Kenyon Green could potentially line up at any position on the offensive line. He's a value pick that gives the team the flexibility to move pieces around as needed.
1.26 Tennessee Titans
Chris Olave, WR, Ohio State
Olave has become a bit of a forgotten man in this draft class. He's a polished route runner who's going to run a much faster 40-yard dash than most are expecting. Julio Jones and A.J. Brown missing time exposed just how much of a weakness the Titan's receiver depth is. Olave fixes that and should help Ryan Tannehill, who will need a strong rebound after the disappointing end to his season.
1.27 Tampa Bay Buccaneers
Devonte Wyatt, IDL, Georgia
Ndamukong Suh and William Gholston are both scheduled to be free agents and I have a hard time seeing them retain both players. The Buccaneers defense wasn't as strong as they were in 2020, and adding talent towards the pass rush would go a long way towards getting them back to form. Devonte Wyatt had a strong enough showing at the Senior Bowl to push himself into the first round conversation. He can line up right next to Vita Vea and play at the 3-tech spot day one.
1.28 Green Bay Packers
Jahan Dotson, WR, Penn State
The Green Bay Packers finally draft a wide receiver in the first round. Dotson isn't the most physically imposing prospect, but he is a good route runner with great speed and perhaps the best hands in the class. He's also had big games in the cold weather so winter in Lambeau wouldn't be an issue! He'd be a welcome addition and a phenomenal weapon for Aaron Rodgers (or Jordan Love) right away.
1.29 Miami Dolphins (via San Francisco)
Zion Johnson, IOL, Boston College
If the Dolphins want to run Mike McDaniel's offense efficiently, they'll need improved play on the interior offensive line. Enter Zion Johnson, yet another big winner from the Senior Bowl. He can play a multitude of positions inside and his lateral movement makes him a good fit for what you'd imagine McDaniel will try to do on offense. Oh, and by the way, the team just hired Boston College OL coach Matt Applebaum to the same position. This is a pick that feels like it makes a lot of sense.
1.30 Kansas City Chiefs
George Pickens, WR, Georgia
I'm still in disbelief that the Chiefs lost in the AFC Championship. There's no excuse for the way the offense sputtered down the stretch. They could use another weapon to take pressure off of Travis Kelce and Tyreek Hill. Demarcus Robinson and Byron Pringle are free agents, and neither of them nor Mecole Hardman have been able to firmly take control of the starting spot opposite Hill. George Pickens entered the year as a WR1 candidate expected to take a leap, but unfortunately suffered a torn ACL during spring practice. He came back at the end of the year and made some key plays for his team. He'd bring a physical playstyle and wide catch radius to Kansas City, giving Patrick Mahomes a legit third option in the passing game.
1.31 Cincinnati Bengals
Trevor Penning, OT, Northern Iowa
Joe Burrow making it to the Super Bowl with the offensive line he had was incredibly impressive. Throughout the playoffs Burrow had to regularly avoid pressure and make plays off script. Cincinnati could have likely won that game if the line didn't collapse down the stretch and allow the young gunslinger to be sacked seven times in the game! Trevor Penning is a great athlete for his size, and plays with a mentality that was made for the AFC North. Not only will he help protect Burrow, he'll likely attempt to break the ribs of any defender who gets a body on his quarterback.
1.32 Detroit Lions (via LA Rams)
Jaquan Brisker, S, Penn State
Safety is a big need for the Lions with questions surrounding Tracy Walker's future and a hole at the position next to him. Jaquan Brisker is a plus athlete who enjoyed his best season to date in 2021. He's a thick, twitched-up athlete who's performed well both in the box and in backend coverage. Despite solid tape, there's not much first round buzz for Brisker at this moment. I'd expect that to change once he continues the Nittany Lion tradition of blowing the doors off the combine.
Follow Kenny on Twitter @Gritz_Blitz.