Mock Draft season is upon us, so I decided to take a crack at an early season mock. Because everyone loves a good mock, or loves to hate a terrible mock. I'll let you decide which this is. Anyway, time for Hunter Thompson's Mock 1.0 of the 2022 NFL Draft season. Shoutout to RiseNDraft.com and nflmockdraftdatabase.com for the simulator used for this mock:
Pick 1 Jacksonville Jaguars
Derek Stingley, CB, LSU
Stingley is one of the top players in the 2022 NFL Draft. He is a lockdown CB who can put WRs on an island. After trading CJ Henderson, the Jaguars need to improve their secondary. Stingley can do that for the Jags. His 2019 season was one of the best in recent history for a DB, and while he hasn't hit those same heights due to injuries in 2020 and 2021, he is still too talented to not be a top pick.
Pick 2 Detroit Lions
Aidan Hutchinson, EDGE, Michigan
Here we have the Lions grabbing a top EDGE in the class. Hutch, a Michigan kid, would be a good addition to the Lions front seven and to the locker room. Hutch can win at the point of attack in a variety of ways while making constant plays for the Michigan defense. His skillset should translate well into the next level after his dominant performance this season for the Wolverine defense.
Pick 3 Houston Texans
Kayvon Thibodeaux, EDGE, Oregon
Thibodeaux is an absolute animal for the Oregon defense and is the best EDGE in the draft. He has the ability to be an immediate playmaker for a defense that needs all the help they can get. Thibodeaux is a defender who can absolutely take over games with his IQ and pass rush tools. He is also athletic enough to slot into any defensive scheme at the next level. Thibodeaux would be a great way to start really rebuilding the Texans under GM Nick Caserio.
Pick 4 New York Jets
Evan Neal, OT, Alabama
Picture this: Evan Neal and Mekhi Becton as the bookends of the Jets offensive line. Evan Neal is listed at 6′ 7″, 350 lbs and having two men built like bears as the cornerstones of a young offense is a smart move the Jets should make. Neal is a brute on the line; he abuses defenders constantly in pass pro and as a run blocker. He is a dominant player in this class who would help the Jets build a talented OL for their young franchise QB.
Pick 5 Philadelphia Eagles
Kyle Hamilton, SAF, Notre Dame
Kyle Hamilton is my top rated player in this class. He is a dominant safety and elite prospect thanks to his size and speed. He's a versatile piece for the Notre Dame defense in coverage, the slot, and the box. Hamilton is a dominant player who would be a game changer for the Eagles secondary as they attempt to rebuild their team and get back to Super Bowl form.
Pick 6 Philadelphia Eagles
Andrew Booth Jr., CB, Clemson
Another Eagles pick here! We have them taking Andrew Booth Jr. from Clemson, my number 2 ranked CB at the moment. He is a feisty, twitchy CB who isn't afraid to take on any WR. Booth would be another good piece to add to the Eagles defense to play and learn opposite of Darius Slay in a division full of talented WRs.
Pick 7 New York Giants
Tyler Linderbaum, iOL, Iowa
Losing Nick Gates to the nasty injury that he suffered was a major blow for a Giants OL that wasn't that strong to begin with. Here we have them grabbing Tyler Linderbaum from Iowa to fill that hole and improve the OL for whichever QB is playing for the Giants next season. Linderbaum is without a doubt the top center in the class and is a good get for the Giants here.
Pick 8 Atlanta Falcons
Kaiir Elam, CB, Florida
Elam could be an immediate plug and play option opposite AJ Terrell for this defense. Elam is one of the top man corners in this class and drafting him would let Dean Pees leave WRs on islands with Elam and Terrell while he cooks up mad scientist blitzes to create pressure for opposing offenses.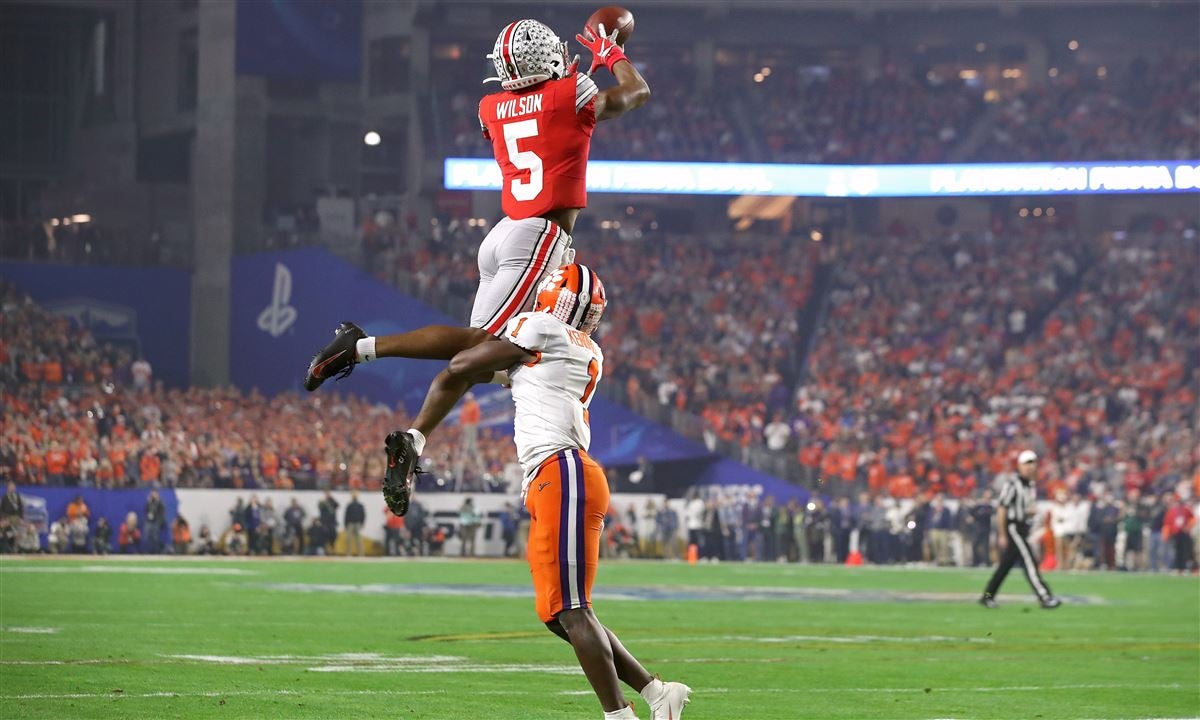 Pick 9 New England Patriots
Garrett Wilson, WR, Ohio State
The Patriots spent all that money this offseason at WR, yet they still have one of the worst WR rooms in the NFL. Insert Garrett Wilson, considered by many to be the top WR in the draft class. Wilson can be lined up across the field is a dominant playmaker who would become Mac Jones' best friend in the underwhelming Patriots attack.
Pick 10 Philadelphia Eagles
DeMarvin Leal, DL, Texas A&M
DeMarvin Leal is another top player in this draft class who can be used anywhere on the defensive line. Leal is 6′ 4″, 290 lbs and offers versatility on the outside and inside. Adding him to an already stacked defensive line would be insane for the Eagles as they rebuild the defense.
Pick 11 Miami Dolphins
Kenyon Green, iOL, Texas A&M
Kenyon Green will immediately help this awful Dolphins offensive line as they try to keep Tua upright. Green has experience starting at multiple positions along the Texas A&M offensive line and should be a key contributor for the Dolphins OL. He excels in both pass pro and run blocking and would be a great addition as Miami's offense attempts to take the next step.
Pick 12 New York Jets
George Karlaftis, EDGE, Purdue
Karlaftis is one of the best EDGE rushers in the class and fits exactly what coach Robert Saleh is looking for out of his edge rushers. He is a high IQ player who excels with a variety of pass rushing moves. Karlaftis is also a phenomenal run defender and would give Saleh a pass rusher to rotate with JFM opposite of Carl Lawson when he returns from injury.
Pick 13 Washington Football Team
Sam Howell, QB, North Carolina
Our first quarterback is finally off the board here. Washington Football Team is missing a QB to really see how talented this team is. Taylor Heinicke isn't the guy and Fitzpatrick is getting another day older and will be coming off of a hip injury. Howell might not be the best QB in the class, but he does have one of the highest floors. Howell has a phenomenal deep ball and is a tough leader who can help inspire the Washington offense.
Pick 14 Minnesota Vikings
Drake Jackson, EDGE, USC
The Vikings are in a weird situation, stuck in the weird place between being contenders and needing to rebuild. Here we have them replacing Anthony Barr with another similar player in Drake Jackson. Drake is a high motor, versatile player who can be lined up in plenty of ways for the Vikings defense while they start to retool the roster.
Pick 15 Pittsburgh Steelers
Carson Strong, QB, Nevada
It's finally happened. The Steelers got a new quarterback. Here they get my current QB1 in Carson Strong from Nevada. Strong is a big armed, gunslinging pocket passer who has the ability to put dimes anywhere on the field. Strong should be able to step into Pittsburgh immediately and take advantage of the weapons and the defense already in place.
Pick 16 Kansas City Chiefs
Ahmad "Sauce" Gardner, CB, Cincinnati
The Kansas City Chiefs need help on defense. They've looked abysmal on the defensive side of the ball this season, so here we have them attempting to improve their secondary by picking Sauce Gardner from Cincinnati. Sauce is a sticky CB who brings a swagger and a confidence to any defense. Adding Sauce to this defense would help KC keep up with the other AFC powerhouses.
Pick 17 Cincinnati Bengals
Jordan Davis, NT, Georgia
Bengals go BPA here with Jordan Davis from UGA. Davis is an absolute monster of a man weighing in at 6 '6″, 330 lbs and is an absolute unit at NT. The Bengals are a young team who have been super competitive in games this season. Adding Davis gives them an ability to plug against multiple OL and let the young LBs run free while the EDGEs eat. Davis has been one of the top defenders in college football this season and is a great pick for the Bengals here.
Pick 18 New Orleans Saints
Malik Willis, QB, Liberty
The Jameis Winston experiment isn't working out super well for New Orleans. Here we have them taking Malik Willis, the quarterback out of Liberty. Willis is a big armed, dual threat QB who can take over games with his arm or his legs. Willis has some accuracy issues, but he's improved this season. Willis gives the Saints their long-term answer at QB in the post-Drew Brees era.
Pick 19 Tennessee Titans
Darian Kinnard, OL, Kentucky
The Isaiah Wilson experiment failed hard. The Titans drafted Dillon Radunz last draft and adding Kinnard here gives them a young right side for the future. Kinnard should probably kick inside to guard at the next level, but he would do very well there. He's a mauler on the right side for Kentucky and would help keep Tennessee's rushing attack dominant.
Pick 20 Denver Broncos
Matt Corral, QB, Ole Miss
The Broncos need a long-term solution at the quarterback position because Teddy Bridgewater and Drew Lock aren't it. Matt Corral is a gunslinging, charismatic, fiery leader who has incredible arm talent and has dual threat ability. If the Broncos want to contend in the AFC West, they need to upgrade the QB position, and Corral is an upgrade.
Pick 21 Carolina Panthers
Jaxson Kirkland, OT, Washington
Jaxson Kirkland gives the Panthers an immediate upgrade on the OL for a team who has struggled there this season. Kirkland gives the Panthers some form of promise at the LT position going forward because Cam Erving isn't the answer there. Kirkland also has the ability to flex at guard if need be, giving the Panthers the ability to play their best 5 on the OL.
Pick 22 New York Giants
Zach Harrison, EDGE, Ohio State
The Giants go EDGE here with Zach Harrison to help alleviate the pressure on Azeez Ojulari. Harrison checks in at 6′ 6″, 265 lbs and is a physical freak. He's been a little underwhelming this season, but he just feels like a pick that Dave Gettleman will make if he's still around as the Giants GM. Adding Harrison to a front 7 that features Dexter Lawrence, Leonard Williams, and Azeez Ojulari would make for a fun and even better Giants defense.
Pick 23 Cleveland Browns
Treylon Burks, WR, Arkansas
Treylon Burks is the WR1 for some in this class. He is a big physical WR, clocking in at 6′ 3″, 230lbs and is an absolute freak when the ball is in his hands. Burks can win the 50/50 balls downfield or win underneath as a YAC daddy for this aspiring Browns offense. The Browns would get a steal here with Burks if he's on the board when they pick.
Pick 24 Detroit Lions
Chris Olave, WR, Ohio State
The Lions are desperate at wide receiver and Chris Olave helps fill that void. Olave is a shifty route runner that is a true technician at the position. Olave is my early WR1 and the fact he fell to this spot is a steal for Detroit. Olave has dominated at Ohio State during his time there and his success should translate to the next level easily.
Pick 25 Las Vegas Raiders
Ikem Ekwonu, iOL, NC State
Ikem Ekwonu is a vicious OL who has played LT while at NC State. I think he will be someone you can plug and play at LG for this Raiders team. He dominates in the run game and does a good job of moving opposing linemen to create holes for his RBs. His length combined with great power makes for a great get for the Raiders here.
Pick 26 Buffalo Bills
Drake London, WR, USC
The Bills have been running Emmanuel Sanders opposite of Stefon Diggs this season, and that's fine and all, but Sanders is 34 and not getting any younger. Here we give the Bills big Drake London, the 6′ 5″ WR from USC. London is one of the best WRs in college football and dominates in the air as a contested catch artist. Adding a WR like London would give the Bills another element in this already dominant offense.
Pick 27 Tampa Bay Buccaneers
Perrion Winfrey, iDL, Oklahoma
Perrion Winfrey is a bit of a raw prospect who dominates physically. He has a great first step, which really helps him get ahead of the offensive lineman. Winfrey is raw, but adding him to this Bucs defensive line that features Suh, Vita Vea, William Gholston, and Steve McClendon gives plenty of opportunity to groom Winfrey how the coaching staff sees fit.
Pick 28 Green Bay Packers
John Metchie III, WR, Alabama
The Packers finally take a WR to play opposite of Davante Adams here with John Metchie III. Only issue is that Rodgers might finally be gone, but that's why we grab Metchie, He is a great WR prospect that has experience working in the slot and from the outside. Metchie would give young Jordan Love a great WR duo between him and Adams.
Pick 29 Los Angeles Chargers
Kingsley Enagbare, EDGE, South Carolina
The Chargers are looking incredible this season and don't have many holes on this roster. Kingsley Enagbare is a bit of a luxury pick, but pairing him with Joey Bosa would create a dominant pass rush duo that would be great toys for defensive guru Brandon Staley. Enagbare is a pass rusher who has stayed hidden in the shadows compared to the ones that came before him in this mock, but he has absolutely dominated the SEC these past two seasons. Adding him here is a steal for an already impressive Chargers defense.
Pick 30 Dallas Cowboys
Myjai Sanders, EDGE, Cincinnati
Honestly, just went BPA here for the Cowboys, who add Myjai Sanders to inject some more youth into their pass rush. Sanders has really impressed these past couple of seasons at Cincinnati. He is an explosive pass rusher who has a dominant first step and incredible burst off of the LOS. He is a little smaller for an EDGE at 6′ 5″, 255 lbs, but he uses his length to offset the lack of strength and weight to really dominate OTs.
Pick 31 Baltimore Ravens
Nakobe Dean, LB, Georgia
Nakobe Dean is 100% one of my guys this cycle. He has been lights out for the Georgia defense, a key factor why they have reached new heights. Dean has dominated in all senses of the game this year: he has been incredible in blitzing, coverage, and as a tackler. He would be joining a fairly crowded LB room, but could push Patrick Queen for reps as he has been a little underwhelming since joining the league.
Pick 32 Arizona Cardinals
Jalen Wydermyer, TE, Texas A&M
Jalen Wydermyer is a pick that feels right after the injury to Cardinals TE Maxx Williams. (Editor's note: This mock was written the day before the Zach Ertz trade.) Wydermyer is a 6′ 5″ freak who is a great TE prospect. He helps dominate the passing game by excelling at all 3 levels as a pass catcher, and is growing in the run game as a blocker. Adding Wydermyer here would give Kyler a long term safety blanket as the Cardinals try to take over the NFC.